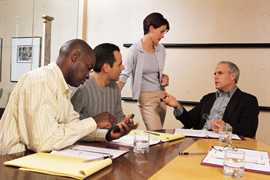 Our testimonials from our clients demonstrate the trust and long-term relationships that are essential to our business.
Mike and Jane keep us on track, so we know where we stand. When we needed advise to expand our business, they added valuable insight and guidance which resulted in our continued double digit growth. Thanks guys.
Jeanne and Susan DiRe, Partners, DiRe Hair Limited



We need to concentrate on our business, which is selling and customizing signs. Mike is there to keep me in line and make sure our business is on the right course. I don't have to worry about the various filing requirements, they take care of it all, both reliably and accurately. They make my life easy.
Bob Covino, President, Sign Sales Inc.



I have worked with Mike and Jane for over 24 years and I trust them implicitly. Their advice is always on target and their ability to work with the ups and downs of small business has been a tremendous asset to me.
Tom Salvo, President, Brandaemon



Mike has been a confidant to us in reliably preparing our individual tax returns and guiding us with sound tax planning advice for over 25 years. There's no reason to look beyond Apone Associates for our tax needs.
John and Pat Depamphilis, Individual Tax Clients



Mike and Jane have been preparing my business and individual tax returns for over 25 years and I am completely satisfied with their helpful and expert service.
Mike Vacca, Owner, Vacca Sign Inc.



Apone Associates has provided us reliable and caring service over our long-term relationship. Thanks Mike and Jane.
Robert and Cindy Vacca, Individual Tax Clients



The Apone's have been preparing our tax returns and giving us investment advise for many, many years. We would like to thank them for the level of expertise and caring way of conducting their business.
John and Joanne Sorabella, Individual Tax Clients



Sal started preparing my taxes over 30 years ago and the transition to Mike has been seamless. Our long-term relationship is as strong as ever.

Richard DiRe, Individual Tax Client